Talk around the block on Reddit and FuckCombustion has been going on for awhile and my eyes were immediately picking up what was being put down – thorough engineering from Vestratto.
Just like the DynaVap when it was first being released in its original glass-stem format, the Anvil seems to have a long ways to go in terms of consumer design, but it seems to really perform like crazy.
I'm piggybacking off of what Sneaky Pete has put out and have consolidated user opinions from Reddit, FC forums, and so forth. I will just present my impressions & opinions on how the Vestratto Anvil vs DynaVap will turn out.
Update Jan 9, 2022: DynaVap has teasted a copper cop upgrade in this Reddit thread, while far from release with no test units out, it seems to aim to fulfil a similar goal of higher thermal mass.
Performance
The Dynavap is known for its versatile, do-it-yourself performance. Light wispy flavor hits, gigantic clouds, or anything in between; it mostly comes down to the user.
However, it has a notably 'DynaVap' signature. Conduction-esque in its flavor presentation. Not too cool & smooth either when doing direct hits.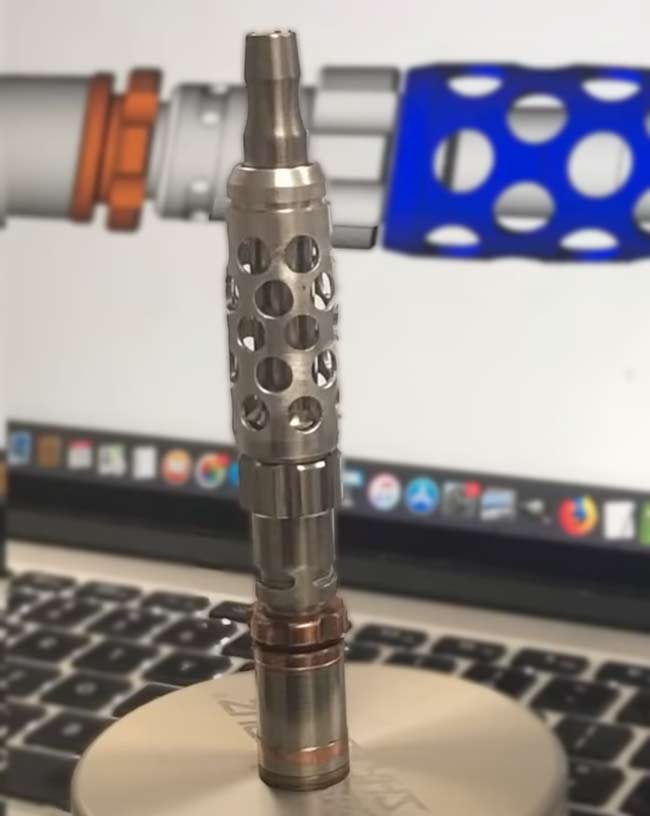 It appears that the Vestratto Anvil also has this same DIY function, with a twist; thermal mass.
Lets side-track and talk about the VapBong for a second. The reason it hits so hard is because it has heaps of thermal mass from its heating element.
You see, the DynaVap loses thermal mass rather quickly. Doubly so for the Titanium version – 4-5 hits from the steel and half from the Ti before the click>reheat cycle can continue.
The clever engineering behind the Anvil multiplies this available amount of energy so you can get those huge bong rips, improve the sharing potential with friends, and worry less about rushing to beating that cooldown click.
In fact, many users have reported phenomenal results due to this huge amount of thermal mass. Remember the VapBong? Thermal mass is the key.
It appears from this video from a Reddit user that after a ~40 second heat-up, you can get ~60 seconds worth of joint-pulls (dual-flame torch, aimed at middle).
This is big news since my titanium DynaVap takes ~20 seconds to heat-up and provides ~20 seconds of hits (single flame torch, aimed at middle)
This means no rush to hit it when sharing and passing it around, and no constant re-heats. Of course this is at the cost of a lot more butane and
Vestratto Anvil heating chambers – Terp & Helix
There are two types of chamber for the Anvil – the Terp herb chamber and the Helix herb chamber. Here are the full descriptions.
Anvil Terp chamber
This is supposedly the chamber for flavor chasers. It seems as though this chamber will bias convection due to the insulated layer between the herb which will prevent toasting & conduction-type taste. This could be big!
Anvil Helix chamber
This seems akin to the standard DynaVap chambers- conduction & convection in unison to blast you with a gigantic hit.
We'll have to see how they perform once we're all able to buy one and see how it hits, but seeing some results from Pete, it looks insanely promising. (Timestamp & vid here)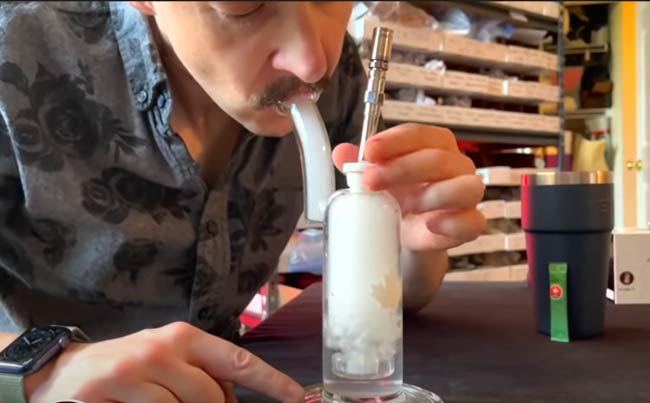 Portability
It's marginally larger than the DynaVap and while it would definitely be noticeable, I can't see it really being a factor in the equation at all.
Rather, the longer heat-up time is what would be a detriment. Watching through Sneaky Petes videos showed me around 25-40 seconds for heat-up cycles, depending on where it was heated. Lets just call it an average 30 seconds with dual flame torch.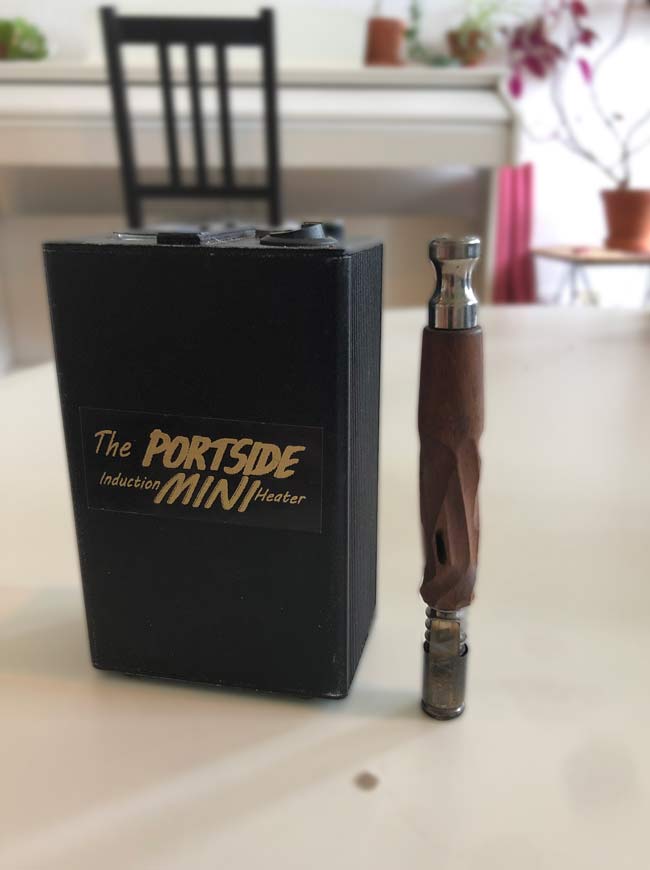 DynaVaps heat up between 5-20 seconds depending on torch & method and cools down rather quickly. The Anvil with its gigantic heat capacity will still be piping hot even after a long time, making pocket-ability much more difficult.
That's the biggest factor to consider when going outside for a quick session – are you willing to wait a minute or two to let it cool down long enough to safely store?
Price
No joke, the Anvil vaporizer starts at $199 which is really serious. The regular Dynavap can be found at ~$60, Ti models around $80, and the Omnivap at around $200.
However, I can definitely see the cost of the Anvil dropping significantly in the coming years. After all, it has taken hundreds of hours to engineer, get samples made, and tons of trial & error. Once the process gets refined, I can see it dropping to anywhere between $100-$150.

At it sits though, I can't see myself getting one at that price… yet. After all, I already have a few DynaVaps and I'd rather get something entirely different.
Other
Induction heating the Vestratto Anvil possible?
As answered by the manufacturer: kinda.
So apparently the Pipes and Fluxer induction heaters are too small, and the Ispire Wand fits but just doesn't supply enough heat and takes too long to warm up. Best performance is with a torch and I can see why. This is quite the shame though and maybe this will be rectified some day. Link to discussion on FC.
All about that click
This is actually very keen – the click is significantly louder than the DynaVap. For those of us who have burnt loads by mistake in busy settings, this is really well-appreciated.
Practicality
How practical will it be in real-world settings?
Well, I hardly use my DynaVap without an induction heater, unless I'm bikepacking or travelling around. I just can't see myself using this thing when out and about unless I'm at a buddies place for some serious bong rips – then it'd be excellent.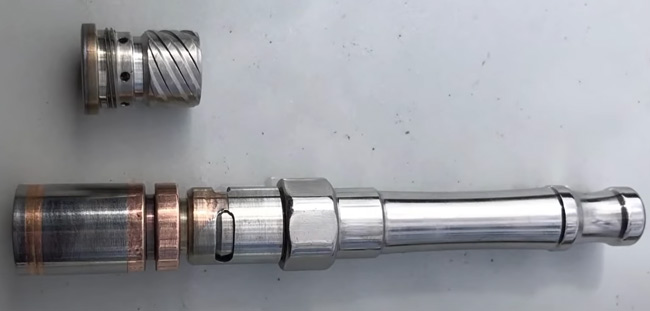 I liken it to being like a Sticky Brick or Elev8r in that case, just with better temperature control.
Sharing the Anvil can actually be really viable if people are willing to take a hit – bigger thermal mass, longer cooldown, easier sharing.
Overall
I personally don't see a use for it in my collection. It seems like an absolute monster hitter on a bong but its outdoors practicality can be pretty limiting – torching a DynaVap in public is already suspicious enough and you need a dual-flame to really work it. It seems like a complete monster, however I just don't have the money to throw around for one.
I already have my unbiased 7 best dry herb vapes list (which I recommend reading) and don't see a place for it in my line-up. If an induction heater comes around which can handle this beast… I may have to revoke that statement. As it sites, the Ispire Wand and Vestratto Anvil don't synergize unfortunately.
Anyways, thanks for reading and please let me know if you have any questions or thoughts – I'm more than glad to help out!
Consider donating a coffee-amount of coins via PayPal if my article helped you 🙂
Vestratto Anvil
$199 is big dollars for a portable herb vape. This Vestratto Anvil vs DynaVap comparison & review will just cover initial impressions before launch.
Product SKU: 0001
Product Brand: Vestratto
Product Currency: USD
Product Price: 199.95
Product In-Stock: PreOrder