After living in Rijeka for a chunk of time I was able to discover all the best things to do in Rijeka. Whether you're a young adventurer or a couple looking to enjoy the pleasantries of the city, this guide will show you all my favorite things to do in Rijeka.
Note: Rijeka, Krk, and Croatia as a whole has limited Google Maps information regarding transport. Hit up my 'Transport around Croatia' post or Transit around Rijeka/Krk/Opatija post to learn how to get around these places.
The downtown market
No shortage of amazing foods and good from the locals, the downtown market in Rijeka is the place you'll find kind old men and young ladies selling smoked meats, fresh vegetables, jams, fruits, and handmade goods, and more. Authenticity and genuine, I absolutely loved shopping here and the prices were always excellent.
Do note that these markets are only functioning during weekends. Prices are listed in Kuna and only cash is used – though I'm sure locals would accept Euros if the conversion strongly benefitted them.
Castle Trsat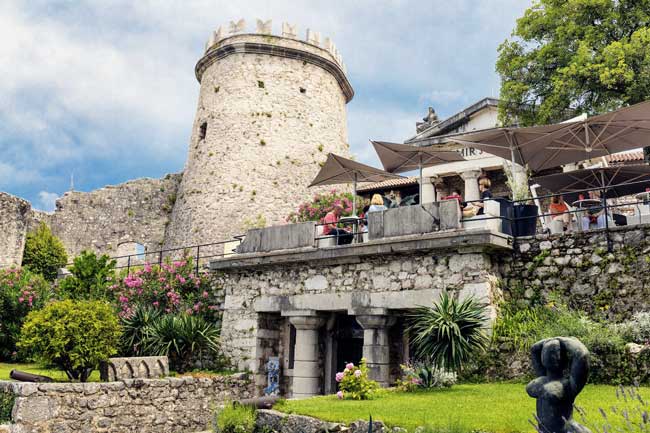 A very common tourist destination and for great reason, Castle Trsat is a lovely old structure which offers splendid views all around. Lovely architecture, a quiet location, and romantic evening, I directed many people to go here and they all enjoyed it.
You can walk right up via Petar Kružić Stairway near the city center, or alternatively Bus #2 'Trsat' will get you there. #2 Srdoči goes the opposite direction and both directions will take you through the city center.
Urban exploration in Rijeka
Adventure junkie? Like to explore? Me too eh.
While a former booming port city in the 1980s, the unfortunate collapse of Yugoslavia meant abandonment of many places.
I actually won't publicly list these specific areas as I'd like to keep them on the down-low. Send me a message on social media (IG, YT, etc) and I'll get back to you ASAP with places to hit up for urban exploration in Rijeka.
Ivan Zajc Rijeka theatre
If you're fond of the fine arts, the Ivan Zajc national theatre is a stones throw away from the downtown market and often has excellent performances at nice ticket prices. My housemate was part of the Rijeka ballet and their contemporary performances were truly incredible. Grab a glass of wine and entertain your mind with a visit down there.
Bonus: The building itself is a postcard centerpiece and an architectural goldmine. Absolutely worth visiting and sitting upon the adjacent benches to admire for a moment.
The beaches
No trip to Croatia is complete without some sunlight and salt water. Evidently, going to the beaches was one of my favorite things to do every day that I could.
My personal best beaches to visit in Rijeka would be at Kostanj/Costabella, Ploče, and Kostrena, though these are a bit far out the way and my best beaches in Rijeka page shows you all the nearby and faraway ones worth visiting 🙂
HNK Rijeka football match
"Rijeka, Armada!
Rijeka has an excellent football scene and the passions are strong. The local crowds have tons of energy and they get rowdy – especially during rivalry matches. Ticket prices are okay but its so worth it to go.
Otherwise if you want some more informal action, the matches at HNK Orijent are free to watch, still good quality, and the crowds are still banging drums and pooping firecrackers. For a football lover, Rijeka is a great place to be!
Note: Lovely stadion Kantrida was the former stadium for HNK Rijeka. This is the current HNK Rijeka stadium.
Amazing food in Rijeka
There are so many amazing places to eat for cheap in Rijeka. Anywhere you go, you'll be pretty satisfied. Grab some Burek, Ćevapi, or unique dish for a good price!
My complete list to the best restaurants and food in Rijeka goes more in depth, however you really can't go wrong by just popping into a random place and ordering a full course. Make sure you buy some Jamnica Sensation while you're at it!
Go climb a mountain
If you're nature-oriented then you can take a bus, start at a small village, and trek up a local mountain.
Take a bus to Dražice and hike up to Obruč or even Vojak near Opatija. You'll see so much hidden history, lush vegetation, and get a true feel for the other parts of Croatia. Not to mention the view! Message if you need assistance!
Go pick some fruits!
If you're visiting during summer and especially around August/September, you'll be blessed with the ability to pick an abundance of fruits. You'll find hundreds of fig trees, grapevines, and even occasional olive trees which you can harvest and enjoy.
Just ensure they're publicly available (ie; no trespassing). I would see literally thousands of figs laying on the streets and the trees which bear them are untouched more often than not. Bring a big container, walk around residential areas, and find the branches hanging over the sidewalks.
Considering how expensive figs usually are elsewhere in the world, this is a serious luxury and fresh figs taste truly wonderful. 10/10, would recommend.
Tunnel/Bunker Rijeka
In the heart of the historical areas, the Rijeka Tunnel is a post-war relic which was initially created to survive any artillery barrage and protect the people.
Now it's a nice little spot to adventure as you breathe in the musty air and explore the realities of war.
Bonus: There are occasional raves/parties down there. The acoustics make for a fun time!
Nightlife in Rijeka
Honestly, there isn't anything too special here. There is your usual array of bars and clubs which usually host many people who are excited to feed a foreigner some Rakija – a strong fruit alcohol usually made of plums. Be careful with this stuff!
Venues like Crkva often host electronic music while some truly underground venues host punk rock and other wild stuff. Feel free to message me on social media for specifics regarding these scenes – I can set you up for a fun time 🙂
Summary
And there you have it – my 11 favorite things to do in Rijeka. After living here for a while, I constantly reminisce and dream of returning soon. A beautiful place which has seen much struggle and adversity, Rijeka is one of the best cities in Croatia for many reasons.
If you've got questions or need clarification on any of these points, I'm very glad to help out and offer some tips or personal directions – just send me a message!
Check out my post on how to take transit around Rijeka or my favorite beaches in Rijeka for more things to do. Until next time, peace!