I loved living in Rijeka and took the time to hit up every beach and spot there is. Without further ado, here's my list of the best beaches in Rijeka!
Here's a quick reference of the location of these beaches. They're actually not so close to the city center and you will need to take a bus or taxi to get to them – unless you have a car or bike. Busses cost ~10kn and taxis ~20-30kn. Exchange rate is ~7.5kn/1eur.
Best beaches in Rijeka
Konstanj/Costabella – Best quiet, accessible beach
Beautiful coast indeed, this is the most visually attractive and one of the quietest beaches in Rijeka. I chose to go to this one whenever I had the time as it's nice to get away from people and enjoy some alone time. Costabella/Kostanj beach map link here
While you're not secluded by any means and there are populated areas every hundred meters or so, you'll certainly find a nice private place to set up a towel and soak in the sun. Occasional sea urchins so keep a keen eye out when walking.
Getting there is also a bit tough as it's quite a walk. You'll want the bus #1 to Bivio and then walk from the very last stop. 32 also stops closer but it harder to access and if you miss the hard to spot stop – you're going to Opatija! There is car access too.
Quieter, not too busy
Beautiful coastal walk, workout area, café bar nearby
Many landing areas, wheelchair accessible spot, cement areas, and rocky.
Kantrida – Easily accesible, popular beach
One of the most crowded beaches in Rijeka, I only hit this place up as often as I did because of the nice seaside walk and proximity to myself. During hot summer days the parking lot is packed and for good reason. Kantrida beach map link here
However, there are trampolines for children, a bathing area for dogs, a small cafe bar, water outlets, urchin-free waters, free parking lot, and a few good food stops nearby.
It's easy to access as bus 1 (Bivio) takes you directly there from city center and runs frequently – stop at 'Kantrida
Dog and wheelchair zones, family-friendly
Nice coastal walk, many restaurants, cafes, bars, etc nearby
Water faucets, urchin-free waters, easy to get to
Plaža Ploče – Best beach for families
This one has all the bells and whistles. Just down the road from Kantrida, Ploče beach is modern, smooth cement sidewalks everywhere, cafe bars, ice cream, and food nearby. It's a large area full of families, young adults, and good times. Ploče beach map link here.
I enjoy this place a lot, though didn't go so often as it was a bit further from me. It's a well-rounded and modern choice and access is also via bus line 1 and the stop you want is 'Bazeni Kantrida'.
Modern vibe, wheelchair & family friendly
Cafes nearby, music, bar, ice cream, water faucets
Easy to get to, comfortable, easy beach
Pećine beach – Closest beach to shopping mall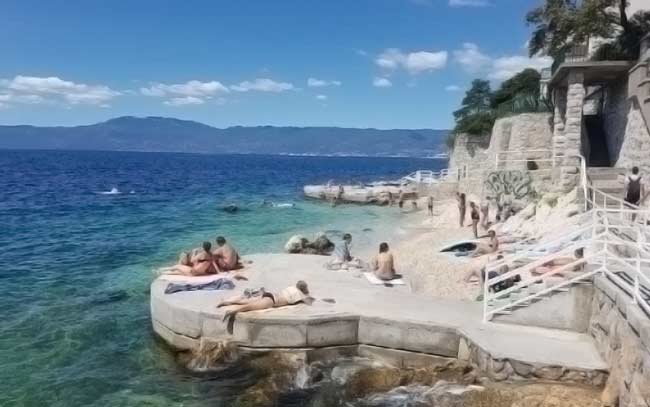 This one is also quite busy but nice too. Plenty of young people, families, and life going on there. Nice clean waters and a good view, it's near Tower Center shopping mall which is nice if you'd like to stock up on watermelon and radlers before hopping in the waters. Pećine beach map link here.
Like the others, it's accessed via bus line 1 in the direction of Pećine. Impossible to miss, you'll get off at the end where the big 180 degree turn is. Not a bad beach at all but not my favorite too. No urchins here either!
Easy to get to
Near shopping mall, cafes, restaurants, bars, etc.
Nice flat concrete hangout areas
Relatively busy and small
Plaža Kostrena beach – Best large beach with quiet areas
Plaža Kostrena is vast and while decently populated, its large size will afford you a nice spot which is away from many people – given that you walk far enough away. Kostrena beach map link here
A long sunset, warm waters, and relaxed atmosphere outside the city, the only downside is the occasional sea urchin which you want to avoid. Car access is great but bus is difficult. Bus line 10 will take you there if you're keen.
Gorgeous scenery and quieter
Many isolated private areas to hang out
Flat concrete landing zones and rocky shores
FKK Rijeka – Best nude beach around Rijeka
Near the Konstanj/Costabella area is the FKK Preluk beach. You're free to swim nude here but honestly any other secluded area is fine to swim naked at. I also have a very creepy story of swimming/being here and while you're likely safe here, I'd say that if you like swimming nude – just find a nice solo spot and you'll have no issues at this nude beach in Rijeka.
Nude swimming!
Rocky shores, gorgeous scenery, decent privacy
Often just old men and women bathing nude
Other things to know
Funny enough, there's now Google Street View of the coastal waters so you can scout out your perfect location beforehand! Here are some other things to know though before going to a beach in Rijeka
Sea urchins
I mentioned these guys quite a few times. They hurt! If you step on one it'll hurt and if its spike breaks off in your foot you will likely need tweezers to get it out.
Bring water shoes or keep an eye out where you walk. While populated beaches are often free of these, I certainly spot a half dozen urchins embedded within rocks in less-frequented areas. None of them are toxic or paralysis-inducing, but they can hurt and in extreme cases warrant stitches.
Rocky shores
All the beaches in Rijeka are rocky beaches. No sand or fine gravel here – the rocks may hurt your feet if you're not used to it and for people like my poor mother was prohibitive towards her enjoyment of the waters. Bring water shoes if you're not used to it!
As a benefit though, these rocky shoes mean that the Croatian waters are crystal clear and they're not gunked up by turmulous sand and grime.
Beach etiquette
Don't litter, don't be obnoxious, and don't overtly stare at nude people. People in Croatia like to swim and be nude and even at public beaches you will find old women topless and occasionally men trunkless. This is fine and accepted.
Alcohol
Hot sun, dehydrating salt water, and alcohol is a bad combination. While one beer or glass of wine is totally fine, remember to pace yourself – this ain't the swimming pool anymore! Oh and don't forget your sunscreen – after an hour you'll be feeling it!
Summary
There you have it – my favorite and best beaches in Rijeka. Check out my related articles on my favorite things to do in Rijeka and how to take the bus in Rijeka guides to be fully equipped for your adventures.
Any questions or thoughts either leave them down below or reach out on my social medias – I'm really glad to help! Thanks for reading and peace.