After staying just about 7 days at this marvellous eco-tourism project and quiet resort, I'll let you know all my thoughts and impressions about this incredible piece of land quietly tucked away from Figueres and Girona and within train distance of Barcelona.
In the search for sustainable tourism in Spain, this is about as good as you can possible get!
This review of Clos Serra Blanca will cover aspects from the accommodation, ownership, service, olive oil production, home-made wines, and other key points found on the property. Lets dive in, shall we?
Accommodation
An absolutely gorgeous suite with ultra-fine cotton sheets, dreamy mattress, and spacious two-person shower can be described as beyond comfortable!
Luxurious soaps, puffy towels, and fresh sheets welcomed me and made me feel at home right away. The ambience never felt saccharide or over-the-top. In fact, it felt like a home away from home – exactly as how I would love it.
Room service is swift and discreet, and a passing glance at each of the rooms showed me that home-like feeling permeated not just my room but to all others too. I can only imagine the beauty that the highest suite offers!
Overall excellent accommodation which doesn't feel pretentious or delicate. Exactly as how I would desire!
Atmosphere
Jaw-dropping is one way to put it! Whether it's the gorgeous views and vistas, assortment of museum-quality antiques and artworks all-over, or the delightfully slightly salty swimming pool – every corner I turned I was happily met with an outstanding relic or curiosity to capture my attention.
Ancient Egyptian artworks, granite pillars from India, and modern fascinations all-over. A small chapel, winding gardens, and peaceful dining areas decorate the surrounding with many curiosities and wonders. I found myself happily wandering, following the next sight which caught my gaze and becoming mesmerised.
There's a certain energy of calmness which permeates the entire property which put my head and heart at peace. I'm not sure if that came from the relaxed manner in which the staff carried themselves or something particular about the location – however it was very soothing and invited that home-away-from-home feeling even more.
Overall a stunning atmosphere which provided sanctity and wholeness to my state of mind.
Food
The house red wine was absolutely sensational – and that's coming from someone who is not particularly fond of red wines! Smooth, slightly sweet, yet whole-bodied and with a very clean mouthfeel. Entirely worth trying again (and again)!
The olive oil was also stellar – I consider myself a lover of craft and fine olive oils and I was nothing but impressed with the profile presented from their product. The property even has ancient 700+ year old olive trees! For those into agritourism, you'll discover some gems around here.
The same could be said about the eggplants, tomatoes, zucchini, and other produce which comes from the farm. Fresh, organic, rich in flavour, and grown with care and intention. The eggplant lasanga, Jamòn ibérico, and housemade cheesecake was absolutely spectacular!
Overall some excellent treats to explore and a very inviting home-like dining area which feels something like a great mix of a French Chalet and modern dining room.
Ecological profile
Sustainability and ethos is a big point to me. After all, this is a big part of the whole ecotourism deal, isn't it? I was curious to investigate their process further.
I was able to have in-depth discussions with the vibrant farmer who oversees all the agriculture development, and, colour me impressed, he really knows his stuff.
I got many lessons in Demeter-farming, their compost system, water sourcing, and the whole rundown of which fruits and vegetables they produce. From farm to table and with methods which are nothing but wholesome and the best you can get – it's an example of permaculture perfected!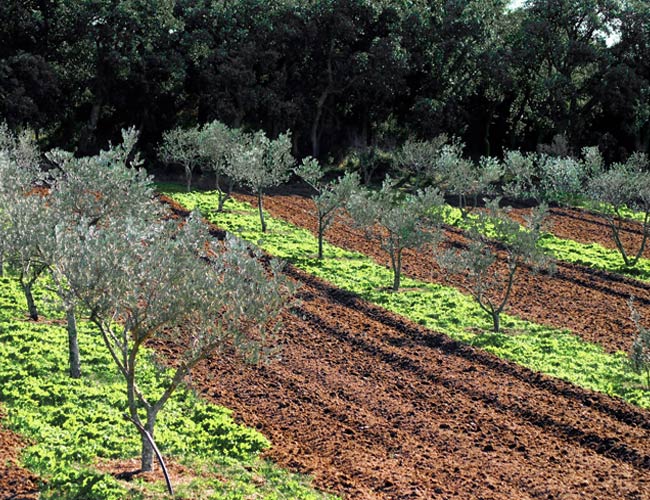 Overall an excellent commitment and implementation of ecological ideas and results which speak greater than words!
Service
Nothing but warm hearts and helpful hands all around. I've found the staff interacting with guests in English, French, Spanish, and German and they took care of all my questions and queries in no time at all. Zero complaints in this regard and I felt very well taken care of wherever I went.
Other things to know & amenities
Aprox. 25 minutes by drive from the world-renowned Salvador Dalí theatre and museum – it couldn't be more perfect! A sensational gallery with surrealist pieces and installations which begs to be explored by curious minds.
I took a day trip to the coastal town of L'Escala which had some lovely beaches, restaurants, and cozy, crystal-clear water. Those who like to swim or snorkle will be happily occupied by a day spent seaside.
From Figueras-Vilafant is a high-speed train to Barcelona which made transport happily easy – especially seeing as how irritating driving and parking a vehicle in Barcelona is.
Too, the French border is quite nearby so riding into the low Pyrenees and local French countryside is a good way to explore the surrounding area without having to book further accommodation in the area.
Overall
While most hotels and resorts are a sort of one-and-done ordeal for me, there is something unique about Clos Serra Blanca which draws me in to visit again. As far as sustainable tourism in Spain – and the rest of the world – I wonder how it can get any better from here!
Attention to detail, cleanliness, comfort, and tranquility were at an absolute peak and I would much rather stay here than at a regular resort packed with ruckus and people.
I discovered many of the charitable and NGO actions which the property owner takes and was entirely inspired by the manner at which not just the property was run, but the overarching vision to make an impact in the world.
An overwhelmingly positive experience which saw my days full of liberation, peace, and exploration. The only way I could see my experience improved upon would be arriving via helicopter upon a flower-strewn helipad! A man can dream, can't he?