My literal favorite piece of gear because of how absurd but useful it is, a titanium tactical spork and in particular the 'Petrified Fish Donkey Friend' is especially useful. Suggesting an 8-in-1 feature set, is this the best titanium spork around?
Here's a link to the same spork I found on Amazon, 'POXIWIN Tactical Spork'. As far as I know, it's the same thing.
Spork mode
It's a spork. The spoon is a little on the small side and the fork tines are a bit short. It doesn't do amazing as a spork but honestly it's good enough for every meal I've had.
Knife mode
Pull off the plastic whistle sheath and you reveal a blade which is just small enough to bring through airports. The blade is fairly sharp and while I havent tested long term longevity, it cuts nice and I reckon it'll last a while if you treat it right.
Whistle mode
Bonus: That plastic sheath which conceals the blade is also a whistle. In case of emergency it's always good to have another whistle on hand. Don't lose this because if you want to use the spork you don't want the blade digging into your palm.
Harpoon mode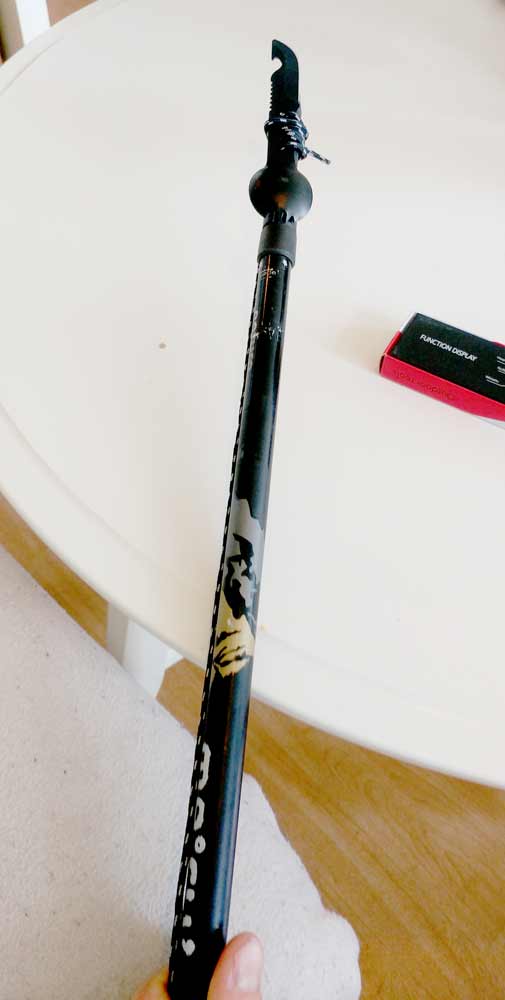 Remove the sheath, tie it around a stick or trekking pole with a rope, and now you have a spear! Your imagination is the limit for this use case and while it's highly unlikely you'll need to use it in spear mode, you never know…!
Fish scale remover
Using spear mode and fancy a whitewater trout dinner? If for some reason you want to remove the scales, you now have a tool for that. I honestly don't see myself using this in the wild, however at home and if I wanted to de-scale a fish, it might be handy to have just in case, but then you're probably better served by an actual fish scale remover.
Bottle opener
Another bottle opener is never a bad thing. Now your titanium tactical spork really does it all. Where's the wine cork and grinder function though..?
Summary
Ridiculous? Sure. Functional? Definitely.
Worth the cost? Without a doubt! Most of the value and function of this tool is being able to whip it out and tell your friends about your titanium tactical spork. The sheer ridiculousness is worth it alone and at 2 for €10 I just gift one to a friend so we have matching tactical sporks.
I use it on every trip as my dedicated cutlery set and honestly… it works great! To whittling tinder or chopping an apple, it's nice to have. It's in my digital nomad master gearlist for a good reason.
Hope you liked the Petrified Fish tactical spork review. Any questions or comments leave em down below! Peace.
Titanium tactical spork review
An actual titanium tactical spork. Cheap, fun, effective - would recommend!
Product SKU: Tactical Spork
Product Brand: Petrified Fish
Product Currency: Eur
Product Price: 9.99
Product In-Stock: InStock