I go over 3 options for Via Ferratas in Interlaken – from first timers to seasoned rock climbers. Lets go into it!
I will interject with my personal experience with climbing and opinions about each of these routes to make it easy for you.
Note: I am an intermediate climber with high levels of fitness and experience climbing without ropes. My difficulty ratings are based on the official SAC (Swiss Alpine Club) ratings, translated to be easily understood.
Note: You must use a proper Via Ferrata kit. Click here to find affordable Via Ferrata kits , or rent one from a local shop (25-50CHF per day). Do NOT use carabiners and slings – it is extremely dangerous!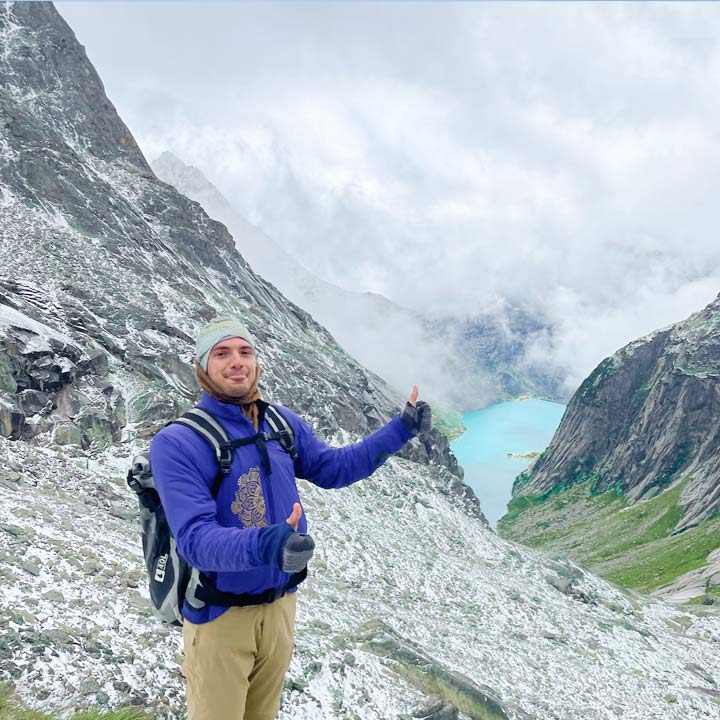 Rotstock Via Ferrata – Easiest Via Ferrata
Time to complete: 2 hours
How to get there: Eigergletscher gondola or train or hiking the Eiger base trail from Alpiglen.
Climbing difficulty: 4/10
Exposure: High ladder exposure for beginning, easy after
View route on AllTrails: Eiger trail – Rotstock Via Ferrata
I did the Rotstock Via Ferrata by taking the train from Interlaken to Grindelwald, and then a train to Alpiglen and following the Eiger Trail to the beginning of the Via Ferrata, then descending to the Eigergletscher train station.
For my particular day it was entirely rainy and cloudy which made the relatively easy climb quite a bit more challenging. The very beginning section of the climb is the only challenging bit, which, in dry conditions is very easy.
This is an excellent first-timer Via Ferrata in my opinion as the climbing is straightforward, the views are beautiful, and you do get to enjoy a summit and the magnificent Eiger right beside you the whole time.
This is also a fairly frequented trail so while I was essentially entirely alone during the rainy and fully cloudy day, I would imagine you'll see many others on this Via Ferrata on a regular day. I hiked to Wengen following the beautiful valley west of the Eigergletscher train station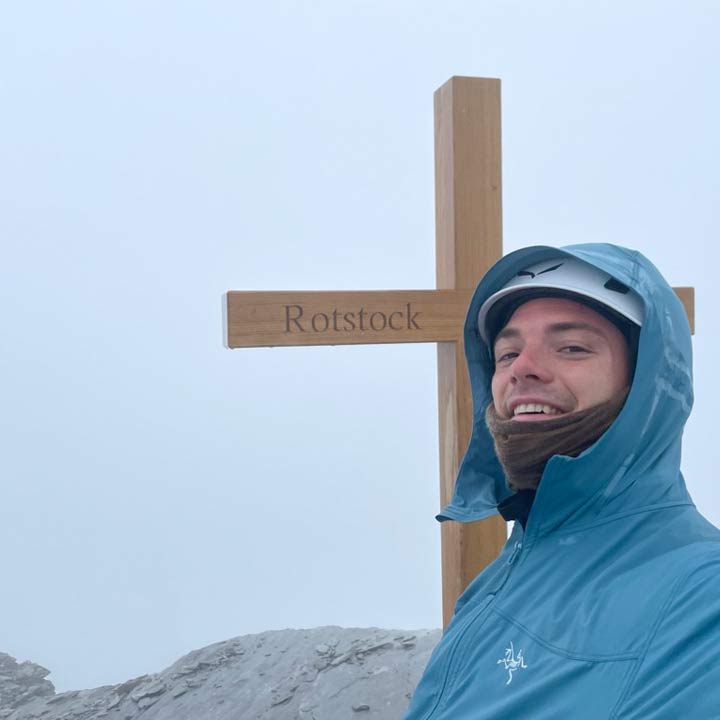 Mürren Via Ferrata – Most photographic Via Ferrata
Time to complete: 2 hours
How to get there: Cablecar to Mürren station.
Difficulty: 5/10
Exposure: Very very high heights!
View route on AllTrails: Via Ferrata – Mürren – Grimmelwald
You'll find the Mürren Via Ferrata all over social media with its spectacular views and eye-catching heights.
In fact, these gigantic heights and drops will make many people extremely nervous, so if you are afraid of heights this is NOT the Via Ferrata for you. The entirety of the route can be considered quite easy from a technical point of view, though from a psychological point of view may be highly frightening.
With that being said, it's a very, very popular route and you will be around many people throughout the experience – some which may slow you down.
As such I generally do not recommend the Mürren Via Ferrata due to the high amount of people and extreme exposure which may be frightening to beginners.
Dossen Via Ferrata – Most adventurous Via Ferrata
Duration: ~12 hours (12km distance, 1,880m vertical)
How to get there: From Rosenlaui
Climbing difficulty: 8/10
Exposure: Moderate
View half route on AllTrails: Rosenlaui – Rosenlauibiwak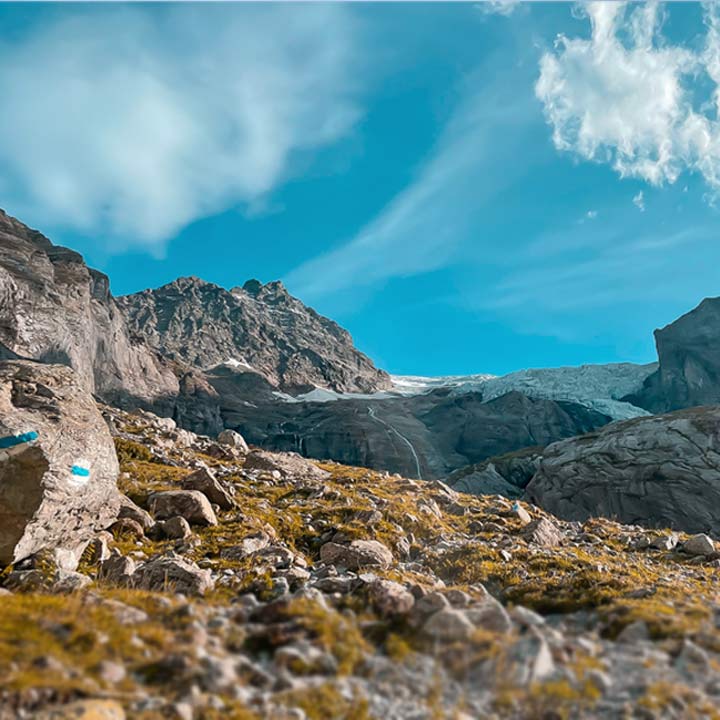 Access – Start hike from Rosenlaui reached by bus or car.
While the route to the Dossenhütte is a marked Via Ferrata all the way, the route to Dossen is technically considered an alpine climb.
The hike essentially starts in a park and slowly and gradually increases in difficulty and beauty.
This was my favourite by far, but also the most time consuming and tiring! Starting from Rosenlaui you go on a 3-4 hour hike to get to the Dossenhütte mountain hut which involves some light exposure with fixed cables and trail markings all along the way. An excellent warm up for becoming familiar with the route.
With registration and the fee you can sleep overnight at the hut and climb Dossen in the morning if you are too tired from the hike to the hut.
From Dossenhütte it's approximately 2-3 hours each way to the summit and back. You can either return the same way back to Rosenlaui or continue eastwards and hike down to the Urbachtal trailhead and either taxi, hitchhike, or walk to Innertkirchen train station.
A spectacular climb which is great for intermediates with a very rewarding view and enjoyable climbing all throughout. Nothing too technical however there is a fair amount of exposure once you start the push to the summit of both Dossensattel and Dossen itself.
I personally did the entire climb without any equipment due to my skill and for seasoned climbers it will be no problem, however beginners and intermediates absolutely should have Via Ferrata equipment for the climbing sections.
Other Via Ferratas near Interlaken
On the SAC.ch site (Swiss Alpinism Club) you can find all the commonly climbed and documented Via Ferrata routes – just click the orange circle to filter for Via Ferratas. From there you can choose that which appeals most to you!
Link to SAC.ch site – it's free to use though some routes require the annual subscription which costs around 100CHF. Here are some options:
I did not do these ones as they did not appeal to me in one way or another (popularity, views, access, etc), however they may work for you!
Note: You must use a proper Via Ferrata kit. Click here to find affordable Via Ferrata kits , or rent one from a local shop (25-50CHF per day). Do NOT use carabiners and slings – it is extremely dangerous!
Via Ferrata FAQ (Frequently Asked Questions)
Can I do a Via Ferrata without a Via Ferrata kit?
You should never climb a Via Ferrata without a proper Via Ferrata kit (helmet, harness, and cables). A single fall can be serious injury or death in most cases.
Can I do a Via Ferrata with a regular climbing harness and slings?
Absolutely not.
The falls from a Via Ferrata are often more intense than from rock climbing due to the short lanyards and potential free-fall distance greater than from climbing.
Via Ferrata lanyards are designed to stretch much more than climbing rope to help lessen the fall impact. However this means they must be replaced if you fall.
A fall from a Via Ferrata with regular Dyneema slings or climbing rope will exert a huge amount of stress on your pelvis, spine, and rest of body – potentially seriously injuring you.
What happens if I fall during a Via Ferrata?
You will survive and be okay, however the risk of injury still does exist – depending on the scenario.
You should be extremely cautious afterwards since Via Ferrata lanyards are only designed to absorb a fall once. Afterwards the kit is unsafe due to it being stretched. The helmet and harness will still be good to use however. Either return a safe way or complete the rest of your climb with utmost caution.
I have never climbed before. Can I do a Via Ferrata?
Experience with heights is definitely a very important thing when doing a Via Ferrata. You will often be at heights which will be taller than the biggest ladder you've been on.
While you are clipped in and entirely secure and the equipment will remove most risk, any sort of climbing including Via Ferrata is inherently risky.
What does Via Ferrata mean?
The 'Iron Way' as they call it – it was used initially during the World Wars to move soliders and people around.
Via Ferratas are adjourned with fixed rungs, ladders, steel cables, fixed ropes, and other man-made safety systems which are already on the route.
Rock climbing on the other hand has only bolts which the climber must affix their own rope to.
What's more dangerous: Rock climbing or Via Ferrata?
To a complete beginner, both are equally dangerous.
To an experienced climber, both are quite safe.
In most situations the fall you take from a Via Ferrata is often more painful/dangerous on the body due to being closer to the wall, the lack of long dynamic ropes (and belay partner), and higher impact on the body when being caught by lanyards.
The number one rule of Via Ferrata is simple: Do not fall.
Note: You must use a proper Via Ferrata kit. Click here to find affordable Via Ferrata kits , or rent one from a local shop (25-50CHF per day). Do NOT use carabiners and slings – it is extremely dangerous!